Euphrasie Fauchelevant, known as Cosette, is a character in the 1862 novel
Les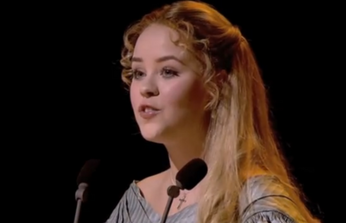 Misérables
by Victor Hugo and the 1985 stage adaption of the novel. She is the daughter of
Fantine
and Félix Tholomyès, adopted by
Jean Valjean
and wife of
Marius Pontmercy
.She lived with the
Thénardiers
in Montfermeil for eight years before Valjean adopted her and took her to Paris. She falls in love with Marius and eventually marries him. Only at Valjean's death does she learn of her mother's fate.
Notable Portrayals
Edit
Rebecca Caine in the original 1985 London adaption
Judy Kuhn in the 1985 Broadway stage adaption and the 1995 10th Anniversary Dream Cast Concert
Ali Ewoldt in the 2006 Broadway revival
Katie Hall in the 2010 25th Anniversary Concert
Jenny Latimer in the current 25th anniversary US tour
Amanda Seyfried in the 2012 film adaptation
Featured Songs
Edit
One Day More!
Every Day
Beggars at the Feast/Wedding Chorale (silent)
Ad blocker interference detected!
Wikia is a free-to-use site that makes money from advertising. We have a modified experience for viewers using ad blockers

Wikia is not accessible if you've made further modifications. Remove the custom ad blocker rule(s) and the page will load as expected.