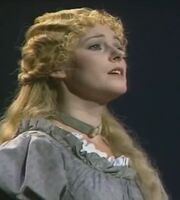 Fantine is a character in the 1862 novel
Les Misérables
by Victor Hugo and the 1985 stage adaption
of the novel. She was the lover of Félix Tholomyès, but he left her when they found out she was pregnant with their daughter
Cosette
. She obtained a job at a textile factory (incidentally owned by
Jean Valjean
) but was fired when it became known that Cosette is illegitimate. She sold her locket and hair, and became a prostitute in order to pay for Cosette. When she refused the advances of a customer, she was nearly arrested by was saved by Valjean. She contracted tuberculosis and, after Valjean promises to raise Cosette in her stead, dies.
Notable Portrayals
Edit
Randy Graff in the 1985 London stage adaption.
Ruthie Henshall in the 1995 10th Anniversary Dream Cast Concert.
Lea Salonga in the 2010 25th Anniversary Concert
Betsy Morgan in the current 25th anniversary US tour
Featured Songs
Edit
Ad blocker interference detected!
Wikia is a free-to-use site that makes money from advertising. We have a modified experience for viewers using ad blockers

Wikia is not accessible if you've made further modifications. Remove the custom ad blocker rule(s) and the page will load as expected.