Gavroche is a character in the 1862 novel
Les Misérables
by Victor Hugo and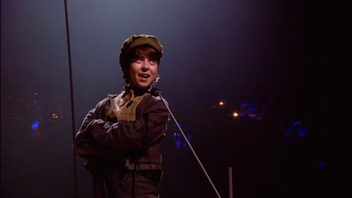 the 1985 stage adaption of the novel. He is a street urchin who was once a son of Thenardier and appears to be part of the
Friends of the ABC
. He is shot and killed at the barricade of the 1832 June Rebellion.
Notable Portrayals
Edit
Ian Tucker, Oliver Spencer, and Liza Hayden in the original 1985 London stage adaption
Adam Searles in the 1995 10th Anniversary Dream Cast Concert
Nick Jonas in the 2003 stage adaption
Robert Madge in the 2010 25th Anniversary Concert
Daniel Huttlestone in the 2012 stage adaption and' movie musical
Featured Songs
Edit
Stars (at the end of the song)
One Day More!
Little People
The Final Attack (Death of Gavroche)
Ad blocker interference detected!
Wikia is a free-to-use site that makes money from advertising. We have a modified experience for viewers using ad blockers

Wikia is not accessible if you've made further modifications. Remove the custom ad blocker rule(s) and the page will load as expected.